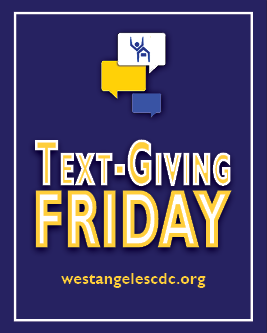 Welcome to the launch of Text-Giving Friday!
Many of you have asked, "What does the CDC do?" "Can I volunteer?…How can I help?"
The purpose of this new fundraising campaign is share with you all of what is going on at the CDC. How the services, programs and projects we work hard to provide impacts individuals, families and the whole of the South L.A. community. Each month we will feature the success stories from our programs and services.
This month, we are proud to present the success story of a very special young man, Breland Rushing, who came to us through our Young N LA youth leadership program. You can read his story and learn more about this program here.
If you like what you see, please show us your support!
GIVE VIA TEXT MESSAGE:
1 – Text "WACDC" to 444999
2 – Follow the prompts
3 – Register your credit or debit card (required only the first time)