THE MISSION OF West Angeles Community Development Corporation is to increase social and economic justice, demonstrate compassion and alleviate poverty as tangible expressions of the Kingdom of God through the vehicle of community development.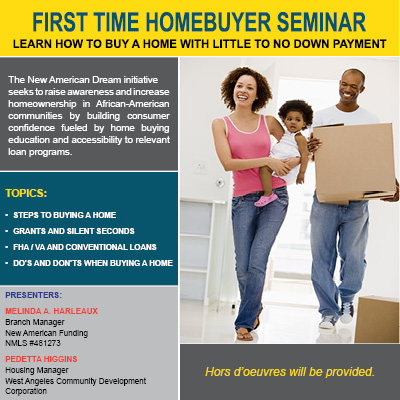 LEARN HOW YOU CAN BUY A HOME WITH LITTLE TO NO DOWN PAYMENT.
In partnership with New American Funding, West Angeles CDC is offering a FREE one day First Time Homebuyer Seminar. New options are available to perspective homebuyers with the New American Dream initiative. Come join us and start your journey to find your dream home. Click here for more information and to reserve your space.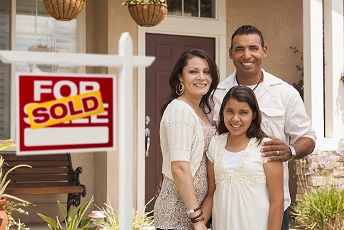 Attention realtors and mortgage professionals. Come join us! West Angeles CDC is launching a new Eight Hour Spanish language Homebuyer Education Course on Saturday, April 29, 2017. If you are interested in presenting or participating, please contact our Housing Manager via email, or call (323) 751.3440.
Future homeowners! Meet real estate professionals and mortgage representatives to informally discuss the local housing market, down payment assistance and home financing options available. Hear from special guest speakers, including ReMax Innovative, West Angeles CDC and Fidelity National Title.
Hot breakfast will be provided.
Saturday, March 4, 2017
8:30 a.m. – 12:00 p.m
EMBASSY SUITES – DOWNEY, CA
8425 Firestone Blvd., Downey, CA  90241

Join us to share your vision for the sites at upcoming Community Workshops.
Thursday, February 9th and 16th
6:00 p.m. – 8:30 p.m
WEST ANGELES CHURCH
CRYSTAL ROOM
3045 Crenshaw Blvd. | Los Angeles, CA | 90016
For more information, call: (323) 751-3440 ext. 42

Make the Most of Your Online Shopping
Now you can donate to West Angeles CDC by simply shopping on Amazon.  Just follow the link below and start shopping. Amazon will donate a percentage of every purchase!  https://smile.amazon.com/ch/95-4486925
West Angeles CDC's 23rd Annual Unity Awards
Our annual Unity Awards Gala is returning on February 2, 2017. Check back here for future updates regarding Person of the Year, and Corporate Citizen honorees, ticket sales, and event highlights.

Homeownership & Investment Center
We can help you realize your dream of homeownership.
Financial Literacy and Cash for Success
Pursue Your Dreams through our 4 to 1 match funds savings program & training classes.
Small Business Development
Services to help small business owners start and maintain their businesses.
Young `N LA Leadership Development Program
Leadership development program for minority men ages 14-18 years old who have been, or are currently on probation.
Family & Community Services
Providing our community with emergency services, food and nutrition programs, utility assistance & employment Referrals.
Neighborhood Revitalization
Affordable Housing, Commercial & Mixed Use Development and Transit-Oriented Development.